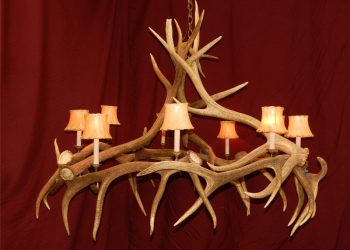 A beautiful sweeping chandelier that captures both the grace and grandeur of the massive Rocky Mountain elk. The 9 light fixture is warmly enhanced by real rawhide shades that can also conceal compact fluorescent bulbs.
Pictured is 54″ wide x 47″ tall, brown elk antlers.
Custom sizing and/or ivory white antlers are available on request.
Price per Unit (piece)
$4395.00 prices may change due to elk antler availability.
CHOICES:
Color choices can range from bleach white to natural dark chocolate brown.
Hardware and chain can be any color to match a clients' decor, from wrought iron to stainless steel.
Shapes and bases can be round or oval.
The height can be altered as easily.
The number of lights can be adjusted.
Shades or glassware can be built-in to add warmer ambience.
All wires are concealed, fittings are antiqued solid brass and straight lights guaranteed.