Display the perfect merging of the great outdoors with your décor by utilizing the creative talents of the Ragged Mountain Antler Chandelier team. Our artistic antler lamps have been lighting up homes since 1988, making us one of the oldest original designers in the business. Many have tried to copy our unique style, but accept no imitations! We piece together each antler chandelier using only the highest quality materials and craftsmanship.
Send us your prized antlers and let us commemorate your hunting trophy or antler collection in a stunning piece that will amaze your guests. The elegance crafted in each and every antler chandelier will weave a tapestry of style, nature, and the amalgamation of interior design with an appreciation of the animal kingdom.
Look over our site to see the most popular styles we can construct or suggest your own; compare our creations with your own unique tastes. Our antler chandeliers and lamps make amazing centerpieces to pull a room together!
Save on freight charges No sales tax Real antlers No dyes or stains Satisfaction is guaranteed
Contact us today to learn how your satisfaction will be guaranteed!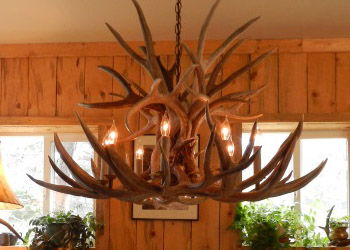 A most conventional antler style, #2 in popularity with versatility in size and shape. The "JEWEL" on average is 34"X24" tall. A beautiful addition to any room with whitetail antlers wrapping the lights.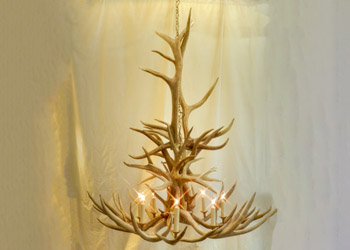 The #1 favorite of homeowners and designers, because of its size and grace. "The CANADIAN" is apx 36"X 48" tall and uniquely uses a combination of elk, mule deer and whitetail antlers.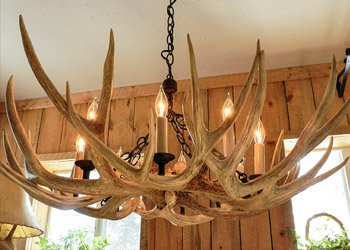 The #3 client's choice is the "SNOWFLAKE" which snuggly fills a low ceiling area. Mule deer antlers overlap to impressively swill a 34"X12" tall rustic antler chandelier. Custom design choices oval or round.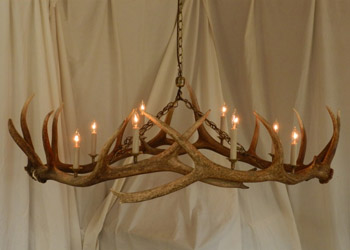 Elk Lighting Antler Chandelier This is fitting style for over a diningroom table or narrow bar because of its canoe shape. 4′ long and 2′ wide are approximate…. Read more »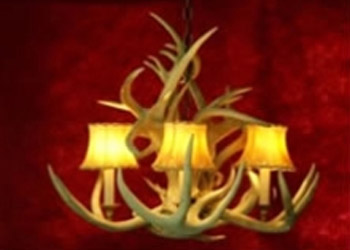 Real Antler Chandelier This compact, yet full chandelier is made with curly whitetail and MULE DEER antlers for height. Whitetail antlers hug and dip down between the lights… Read more »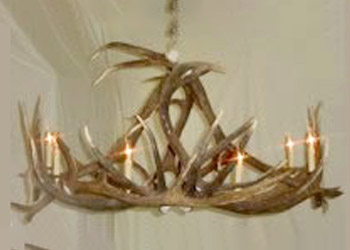 Wind River, Elk versatility This is a very popular chandelier because of its size and versatility, and a favorite with elk antler collectors. It looks great over a… Read more »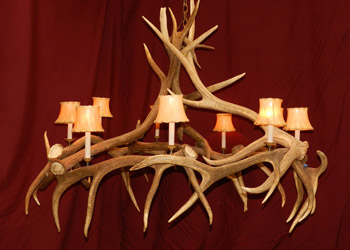 A beautiful sweeping chandelier that captures both the grace and grandeur of the massive Rocky Mountain elk. The 9 light fixture is warmly enhanced by real rawhide shades… Read more »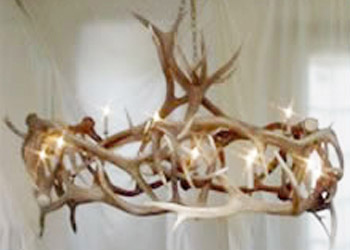 A commanding spectacular chandelier of Rocky Mountain elk antlers. Lights may be placed inside the frame of antlers or placed around the top to accommodate shades. Approx 5′… Read more »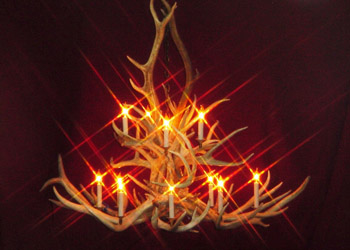 This is a stately traditionally styled real mule deer chandelier. This antler chandelier is elegant, regal, and full. Approx 40″+ wide, heights can vary. Pictured is one of… Read more »
The Northerner is a rare combination of many types of antlers. Moose, Caribou, elk, deer, and fallow antlers blend to make this beautiful massive chandelier a true masterpiece…. Read more »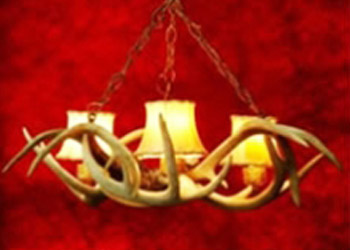 A roller coaster of flow. A most original flowing combination of over-under curly whitetail antlers. Suited very well for a tight area or low ceiling. Approx size is… Read more »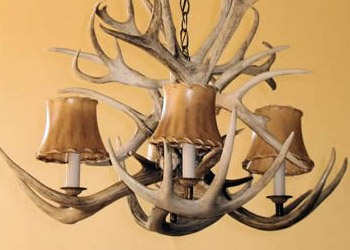 Just like the name suggests, this one will grace your location with elegance. Approx 24″ x 30″ or larger. Price per Unit (piece) $1195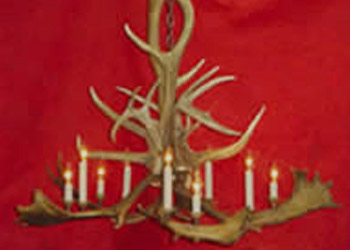 This chandelier was an instant favorite. Extremely unique and sweeping, its 10 lights are at different levels and dance around a base of European fallow antlers. Approx 40″… Read more »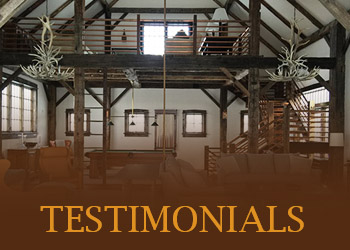 Read all the testimonials for Ragged Mountain Antler Chandeliers. From personal homes, vacation homes and businesses.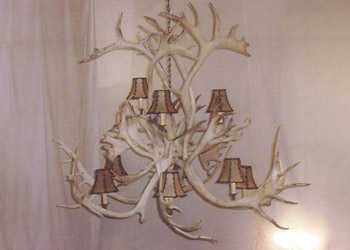 Symmetrical or asymmetrical, your own antlers or ours, we have the ability to create a piece of abstract art that truly rises above the work of our competitors.