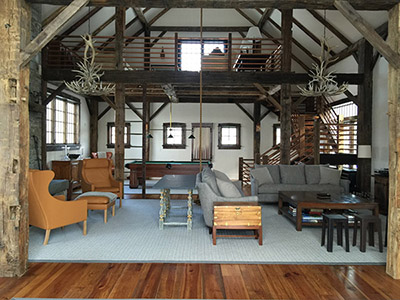 Custom Antler Chandelier
Our Original Design and #1 choice for Designers, Decorators and homeowners. The classic style and versatility completes a room nicely whether Rustic or Country. Nominated top 5, Home of the Year, 2016.
" We are all very happy with your chandeliers. They look great and it was a pleasure working with you. "
Laurence Fox Design
Belgium & New York, New York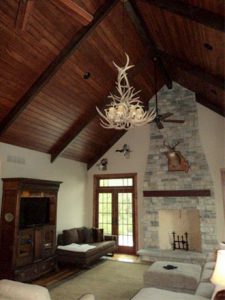 This Ragged Mountain original chandelier is very large and full in the base and gracefully tappers toward the ceiling smoothly adding height with the addition of elk antlers. Mule deer antlers make-up the foundation, with whitetail antlers dipping in-between and hugging the lights. The "Canadian Jewel" magnificently fills a high ceiling space either over furniture or center stage. This is our most popular tall chandelier at 4 feet.
The Canadian Jewel can be individually modified to accommodate a client's preferences. We routinely use a medium brown antler; never stained or dyed. The chain and fittings are antiqued brass and there is nothing shiny, plastic or distracting in the overall appearance. The wires are internal and there is no internal or external framework. All the antlers are inter-connected. Available in either 38″ or 48″ tall and approx 36′ to 38″ across the base.
Price per Unit (piece):
– 8 lights, 48″ tall $2395 (pictured)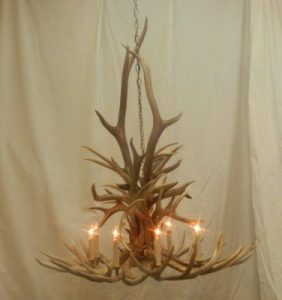 Custom Choices:
Natural antler colors can be chosen from a range of light to a natural dark chocolate brown.
Hardware and chain can be any color to match a client's decor, from wrought iron to stainless steel.
Shapes and bases can be round, oval, flat or high sided.
The height can be altered as easily.
The number of lights can be shifted to more or less and added into the top as well.
Shades or glassware can be built-in to add more ambience.
Straight lights are guaranteed because we use swivel brass fittings.