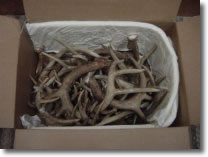 ALSO visit the Testimonial Page for more photos and stories.
SAVE YOUR MEMORIES WITH YOUR CUSTOM ANTLER CHANDELIER BY PROVIDING YOUR OWN ANTLERS!
We are one of the few companies that are willing and able to use your antlers to construct a beautiful balanced antler lighting fixture. Choose a style, shape, or size you would like and we'll work toward that using your antlers and ours if necessary. Any unused antlers will be sent back to you. Contact us for more information on how you can preserve your memories by allowing us to create a custom chandelier or light fixture from your own antlers. (see Testimonials)
Larry's Fix
Larry wrote to us on 5/1/2018 after purchasing an antler chandelier off the internet and seeing it was not usable. The antlers were real but there was no quality or craftsmanship.
The first photo (pictured below) demonstrated the lack of any attempt to match color or even any attention to detail. Larry tried to salvage the antlers; he dismantled the chandelier and sent the antlers to us to see if we could reuse some of them and create a usable chandelier for his new home.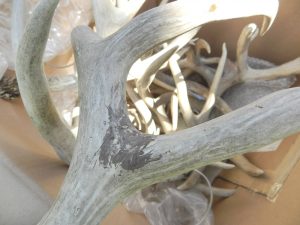 Larry wrote 5/1/18,  "I, like a dope, purchased an antler chandelier online.  I disassembled it in an effort to recreate something usable. It was simply not going to happen. The antlers were crudely assembled, wrong screws and a sick job of concealing them also it would not hang level and the lamps were askew.  Did I mention I was a dope? Help!"
Ragged Mountain said YES! We then configured a completely different shape, added more lights and included some of our own antlers to make it something we would be proud to hang in our own home.
On 6/28/18 Larry wrote, "Fabulous, even better in real life…..it is truly a treasure and will remain so from the beginning to its installation today. This is a piece of ART. Thank you so MUCH!"
Larry's New Chandelier!
The Caribou Charlie Chandelier
This is our newest Custom Caribou Antler Chandelier built for Charlie with antlers he provided to us from Alaska. Ragged Mtn. is one of the few companies with experienced crafters that can successfully work with a client's own antlers and turn out a magnificent centerpiece chandelier.
Notice the bottom tines and how they beautifully mesh. It measured 5 feet across. Charlie sent us three sets of uniquely shaped antlers that he had hand-selected in Alaska. We returned to him an unbelievably gorgeous chandelier.
Thank you Charlie you can send us antlers anytime.
BEFORE:  Charlie's box of antlers: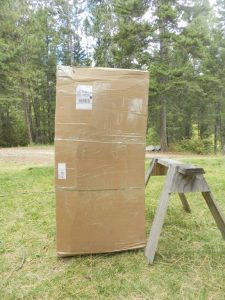 AFTER – The Caribou Charlie Chandelier