Table Lamps
Visit www.Etsy.com, RaggedMtnAntler; for current lamps and items for sale with size and pricing.
Unusual and non-typical antlers are incorporated into these gracefully unique table lamps. We can make-up nearly matching sets with more typical antlers or supply us with a "special" antler of your own to work into a personal gift or treasure.
Shades are not included.
faux rawhide shades, $35 each.
authentic rawhide shades, 18″ $125 each.
authentic rawhide shades, 20″ $145 each.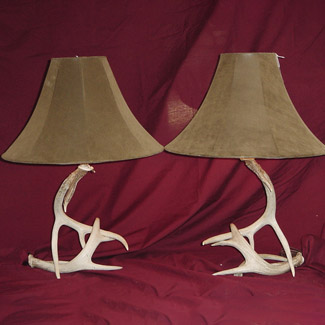 Set of 2 Table Lamps
Charming matching set of table lamps with a built in hi-low socket. 12″ tall.
Contact us for pricing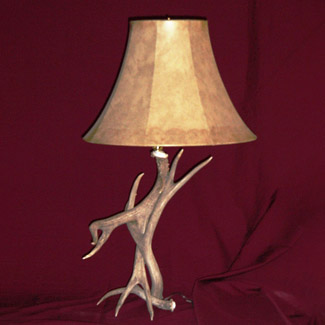 Non-Typical Table Lamp
Non-typical mule deer and extreme whitetail antler lamp 29 1/2″ tall x 18″ wide.
Priced at $295. (shade extra)
– The sockets have a built in 3 way switch.
Prices are according to size and complexity from $145 to $495. Average sizes from 12″ to 20″, measured to the top of the antler.
Mule Deer Table Lamp
29 1/2″ tall x 17″ wide.
Priced at $195. (shade extra)
Sconces
Sconces are fantastic enhancers for the rustic theme. They fit snuggly in small spaces and light up such places as hallways and stairwells.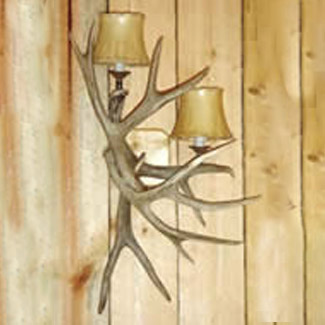 Antler Sconce
A very popular size and style is this two lighter sconce.
On the average it measures 24″ from top to bottom and we strive to wrap each light with an antler.
Priced at $295 each. (shades extra)
5″ Rawhide shades are an additional $35 each
Matching sets are available.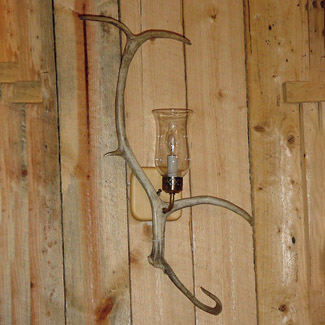 Matching Reindeer Sconces
One of a set of matching reindeer sconces.They would gracefully frame a mirror or fireplace. One is 28″ tall, the other 24″. Reindeer Sconces can be made in a variety of sizes and shapes.
Priced at $145 each. (Glassware included)
Whitetail Sconce
A mainstay of antler lighting. A single whitetail antler with or without glassware or shades. The avg height is 12″.
Priced at $135 each (shade extra)
Glass shades $5 each or rawhide shades $35 each
Floor Lamps
These floor lamps are intricate, vertically balanced and interestingly detailed. Many have built in moose paddle shelves.
Average height 5 feet tall. Priced from $1495
– 20″ authentic rawhide shade $145 extra.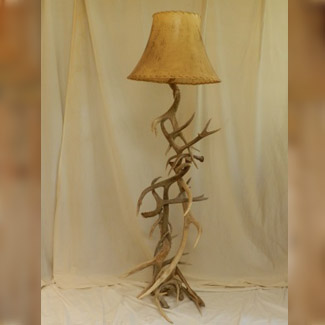 Floor Lamp (sold)
This is "The Stacker" 5 1/2 feet tall, fascinating inclusion of non-typical antlers of mule deer, whitetail and elk.
This blended balance will never be duplicated!
Priced at $1695 (shade extra)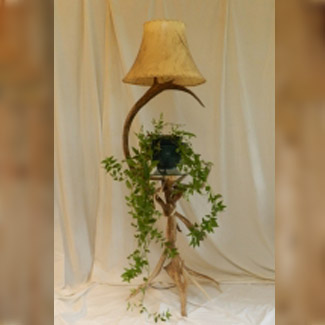 Floor Lamp with table top
This floor lamp is crafted with an elk, caribou, fallow, mule deer antler combination.
It's 58'' tall and is made to hold a 19'' glass table top.
Priced at $1695 (shade extra)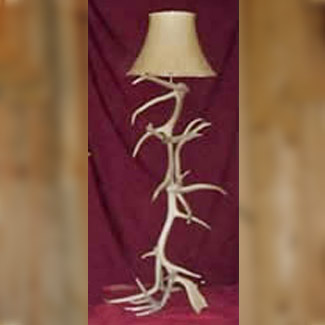 Floor Lamp with shelf
This floor lamp is created using an elk, fallow, moose, whitetail and mule deer combination.
It measures 54'' to the bottom of the light socket. A moose paddle is incorporated as a mini shelf.
Priced at $1595 (shade extra)