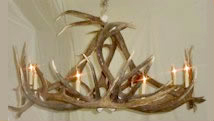 Wind River, Elk versatility
This is a very popular chandelier because of its size and versatility, and a favorite with elk antler collectors. It looks great over a table or cozy room setting. Approx 4′ wide x 2′ tall. Size can vary if you are supplying your antlers.
These antlers were collected over the years in the Wind River area and each set holds a memorable story for our client. Supplying your own antlers saves both money and memories. Whether we use your antlers or ours, this is a classic design.
Price per Unit (piece) Prices may change because of rising cost of antlers.
$2195.00 (pictured) Save by supplying your own antlers.
CHOICES:
Color choices can range from bleach white to natural dark chocolate brown.
Hardware and chain can be any color to match a client's decor, from wrought iron to stainless steel.
Shapes and sizes may be customized.
Shades or glassware can be built-in to add warm ambience or to disguise energy saving "green" bulbs.
All wires are concealed, sold brass fittings are antiqued unless otherwise requested, and straight lights are guaranteed.