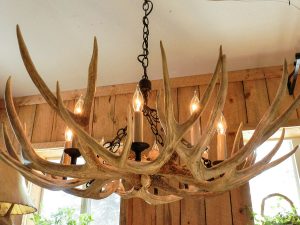 Real Deer Antler Chandelier
#3 in popularity for it's low profile.
The Snowflake is a full yet low profile chandelier made full to overlapping mule deer antlers. This reral mule deer antler light fixture fits well in a low ceiling area. Approx. 32″ to 36″ wide x 10″ tall. More photos on www.Etsy.com and our store name RaggedMountainAntler.
Available with or without glassware or shades.
Whitetail antlers may be substituted for our mule deer antlers. (With whitetail antlers average size, 24″ oval base, 1 light per antler.(Call for prices by substituting whitetail antlers)
Price per Unit (piece):
4 antlers, 4 lights $595*
4 antlers, 8 lights $695*
6 antlers, 6 lights $895*
8 antlers, 8 lights $995 (pictured)
* Antlers do not overlap in the 4 and 6 light antler chandeliers
CHOICES:
Antler choices of color can range from natural light to dark chocolate brown.
Hardware and chain can be any color to match a clients' decor, from wrought iron to stainless steel.
Shapes and bases can be round, oval, flat or high sided.
Shades or glassware can be built-in to add warm ambience or to disguise energy saving "green" bulbs. Now available 6/1/2017 LED bulbs that look like regular flame tip candelabra base bulbs.
All wires are concealed, solid brass fittings are antiqued unless otherwise requested, straight lights are guaranteed.