Authentic Antler Chandelier
A Popular Favorite of Mule Deer & Whitetail Antlers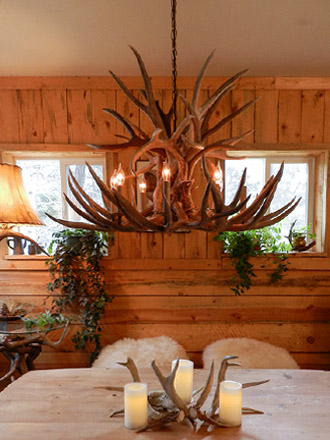 Our extremely popular custom centerpiece antler chandelier using large mule deer antlers. Mule deer make up the bulk of this impressive, not wimpy, light fixture with curly whitetail antlers dipping in between the lights. The lights are on brass fittings which makes possible straight lights.
Approximately 34″ to 36″ across the base, and 18″ to 24″ tall.
Available with or without glassware or shades.
In photo shown are a Caribou Floor Lamp with glass table and Whitetail Candelabra arrangement with flameless candles. This candelabra is made up of individual free standing antlers and can be arranged in multiple combinations. e-mail for photos or visit www.Etsy.com and see some of our unique one of a kind items. Store name RaggedMountainAntler. Or visit Facebook; Ragged Mountain Antler Chandeliers which carry videos.
Price per Unit (piece):
6 lights $1895
8 lights $1995 (pictured)
12 lights $2275
"Jeanne your work is spectacular. I'll send a photo. Can I get 6 more shades?"
– Matt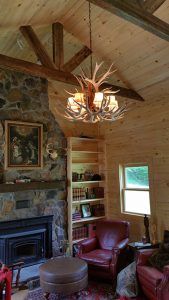 CHOICES:
Your Color choice can range from light toto natural dark chocolate brown.
Hardware and chain can be any color to match a clients' decor, from wrought iron to stainless steel.
Shapes and bases can be round, oval, flat or high sided. The height can be altered as easily.
The number of lights can be shifted to more or less or added into the top as well.
Shades or glassware can be built-in to add more ambience. Now available from our supplier 6/1/2017 LED bulbs that look like regular flame tip bulbs.
All wires are concealed, solid brass hardware, and straight lights are guaranteed.