Real Antler Chandelier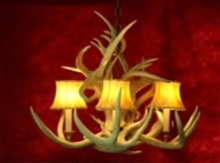 This compact, yet full chandelier is made with curly whitetail and MULE DEER antlers for height. Whitetail antlers hug and dip down between the lights making this a smaller version of our #2 seller, the Jewel.
The original "Gem" is about 16″ tall and 24″ wide. Fits well with a low ceiling. available with or without glassware or shades.
Price per Unit (piece)
4-5 lights $1195
Tall Mountain Gem with a reindeer twist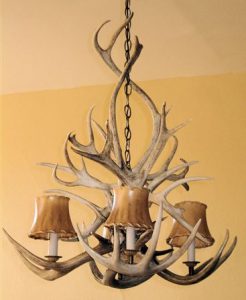 The twist is taking a "GEM" chandelier and replacing the muledeer antlers with reindeer in the top. Now we reach about 30″ tall. $1395.00 based on availability of reindeer.
We now have a similar style using elk antlers in the top to get the height of 30″. $1395.00 (Video available)
CHOICES:
(with most all chandeliers)
Color choices can range from natural light to dark chocolate brown.
Hardware and chain can be any color to match a client's decor, from wrought iron to stainless steel.
Shapes and bases can be round, oval, flat or high sided.
The height can be altered as easily.
Shades or glassware can be built-in to add ambiance or to disguise energy saving "green" bulbs but not necessary.
All wires are concealed, all solid brass fittings and straight lights are guaranteed.