Elk Lighting Antler Chandelier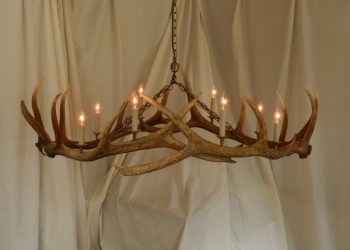 This is fitting style for over a diningroom table or narrow bar because of its canoe shape. 4′ long and 2′ wide are approximate.
$1395.00 shades are available but not necessary.
FOR ANTLER COLLECTORS
This is a very popular style to show off your trophies and memories. Hunters and collectors supply the elk antler pairs, getting the satisfaction of using your own antlers and a special savings at the same time. A bonus, this is shallow enough for a low ceiling but still substantial in bulk and mass. Average size is 2 feet wide x 4 feet long and 8 lights.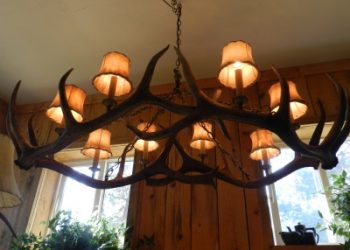 Visit the "YOUR ANTLER" page and view the before and after pictures.You may lay two sets of elk antlers on the ground as shown in the "before" photo and get a good idea of size and shape of your chandelier if you are using your antlers.
We can always add or substitute some of our antlers to make it brag worthy.
Price per Unit (piece) $1395.00 our antlers.
See another larger style using your own antlers, "Wind River". Call for price.
Huge savings by supplying your own antlers.
$795.00 One price for the "CANOE" style, any size with YOUR antlers.