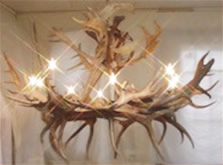 The Northerner is a rare combination of many types of antlers. Moose, Caribou, elk, deer, and fallow antlers blend to make this beautiful massive chandelier a true masterpiece. Pictured 5′ wide x 4′ tall.
Price per Unit (piece)
Contact us for pricing information
CHOICES:
Color can range from bleach white to natural dark chocolate brown.
Hardware and chain can be any color to match a client's decor, from wrought iron to stainless steel.
Shape and sizes can be altered to suit.
The number of lights can be adjusted.
Shades or glassware can be built-in to add warm ambiance or to disguise energy saving "green" bulbs.
All wires are concealed, solid brass fittings are antiqued unless otherwise requested, straight lights are guaranteed.