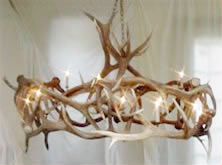 A commanding spectacular chandelier of Rocky Mountain elk antlers. Lights may be placed inside the frame of antlers or placed around the top to accommodate shades. Approx 5′ to 6′ wide with 10 to 12 lights. Shown is the natural medium brown antlers and antiqued brass hardware.
Price per Unit (piece)Due to the escalating price of elk antlers
Contact us for pricing information
CHOICES:
Color choices can range from bleach white to natural dark chocolate brown.
Hardware and chain can be any color to match a client's decor, from wrought iron to stainless steel.
All wires are concealed, solid brass fittings are antiqued unless otherwise requested, straight lights are guaranteed.