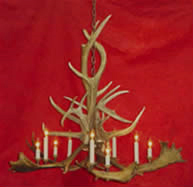 This chandelier was an instant favorite. Extremely unique and sweeping, its 10 lights are at different levels and dance around a base of European fallow antlers. Approx 40″ X 30″ tall.
Sizes can be altered, based on availability of fallow antlers.
Elk and deer antlers compliment this great room masterpiece.
Price per Unit (piece)
$2495.00
CHOICES:
Color
Hardware and chain can be any color to match a client's decor, from wrought iron to stainless steel.
The number of lights can be adjusted.
Shades or glassware can be built-in to add warm ambience.
All wires are concealed, solid brass fittings are antiqued unless otherwise requested and straight lights are guaranteed.