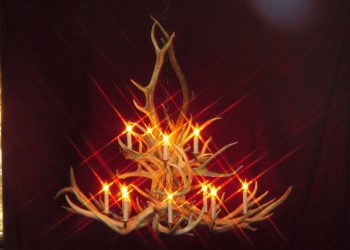 This is a stately traditionally styled real mule deer chandelier. This antler chandelier is elegant, regal, and full. Approx 40″+ wide, heights can vary.
Pictured is one of two styles. The photo on the right style has some elk antlers incorporated into it for a larger size and fuller form. Approx 40″+ wide x 4′ tall.
Price per Unit (piece)
$4275.00 (pictured)
Compare this style with the "Canadian Jewel".
CHOICES: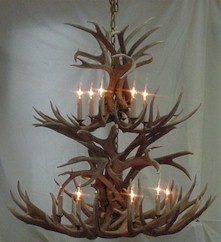 Color choices can range from light to natural dark chocolate brown.
Hardware and chain can be any color to match a client's decor, from wrought iron to stainless steel.
Shapes and bases can be round, oval, flat or high sided.
The height can be adjusted.
The number of lights can be adjusted for more or less.
Shades or glassware can be built-in to add warm ambience or to disguise energy saving bulbs.
All wires are concealed, the solid brass fittings are antiqued unless otherwise requested and straight lights are guaranteed.